Toronto Beer Week is a weeklong event that takes place September 13th-21st celebrating the craft beer movement that has truly taken Ontario by storm.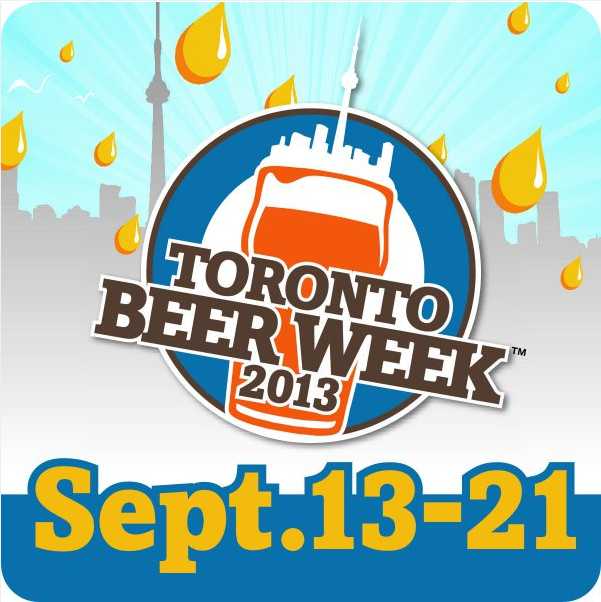 Canada has a long tradition of great seasonal festivals, many of which are dedicated to all things BEER. Canadians and beer go very well hand-in-hand. In 2010, statistics revealed that Canadian sales of beer topped $9 billion with Quebec, B.C. and Ontario leading the pack. [see more on statscan]
While the two most well known Canadian brands are probably Molson Canadian and Labatts Blue, it is widely recognized that the two biggest beer companies on the planet — Anheuser-Busch InBev and SABMiller — now own more than 200 brands based in 42 countries and also generally control the majority of the tap handles with their brands. Without a doubt they own some great traditional brands, however, the demands for new flavourful craft brews and the support of the smaller underdog microbreweries are gaining widespread attention these last few years. Are we seeing a renaissance in the art of brewing beer? We think so. It seems many bar pubs and restaurants are catching on too. It is especially exciting to see the positive impact that locally brewed craft beer has been having on the community. BUY LOCAL, SHOP LOCAL is becoming the new motto. Beer has always been a social beverage that is useful in bringing people together. As the popularity for the taste of craft beer increases, so too does the quality and the variety of selection.
There has never been a more interesting and exciting time for craft beer! If you're bored with normal brews, there are tons of fun varieties to try.
Toronto Beer Week showcases only authentically brewed craft beers in dozens of Toronto's best independent restaurants, cafés, bars, brewpubs, taverns and alehouses. These establishments collectively host hundreds of their own individual events throughout the week (and all year long) ranging from beer dinners, to cask beer tastings, brewing demonstrations, contests, live music and much more. The beer festival organizers encourage you to explore the city of Toronto by visiting these unique participating venues and enjoy the flavourful and authentic beers they proudly serve.
The homebrewing community has grown considerably over the past number of years. Slowly but surely, the hobby of brewing your own beer at home is continuously gaining popularity throughout the country.
One of the exciting features at this years' TBW is the Homebrew Competition which encourages Toronto-area and nearby regions of the province to participate by submitting their home brews for judging.
[Note: To be eligible for the Contest, entries must be received by 6pm on Saturday June 1st, 2013.]
FEATURED TORONTO BEER WEEK 2013 CRAFT BREWERS
Master Brewers put a lot time and effort into perfecting their recipes with a strong focus on developing unique styles, character and flavours. This is one of the best aspects of craft beer—there is always something new to experience, and there are always brewers who want to push the envelope and create new, tasty suds. Are you a beer person in search of that perfect pint? Beer aficionado or not, it is likely you will discover a new favourite.
5 Paddles Brewing Co.; Amsterdam Brewery; Barley Days Brewery; Beau's All Natural Brewery; Bellwoods Brewery; Black Oak Brewery; Cameron's Brewing; Church-key Brewing; Creemore Springs Brewery; Flying Monkey's Craft Brewery; Granville Island Brewing; Great Lakes Brewery; Hop City; Indie Alehouse; Kensington Brewing Co.; King Brewery; Left Field Brewery; Mill Street Brewery; Muskoka Brewery; Niagara Oast House; Nickel Brook; Sawdust City; Spearhead Brewing; Steam Whistle Brewery; Wellington Brewery; Sam Adams; The Beer Academy (Six Pints Specialty Beer Co.); Niagara College Teaching Brewery; The Bar Towel (Ontario's Premier Beer Resource).
For more on Toronto Beer Week, participating venues and schedule of events, click over to the TBW web site.
:: Have Beer, Need Art ::
Design meets the Beer Coaster
Whether you need a small amount of custom coasters to promote your bar or restaurant or a large number of promotional coasters for your beer brand or festival, we can handle your coaster order in any quantity -- from just a few thousand into the millions. Oh, and YOU do not have to be any of the above to have your own personalized coaster! We are also happy to oblige home brewers too! Surprise your family and guests by presenting a personalized custom photo coaster of your very own. View our Gallery for more inspiration.
Personalize your drink coasters for maximum branding impact with custom designed coaster shapes!

Do you have customization ideas you'd like to try? Talk to one of our representatives and we will look into it for you! Check out our stock custom coaster shape pricing options!!
Here are a few spectacular beer coaster designs by some of the participating craft brewers at TBW 2013
Blog post by Alex Zafer